This Jewelry Size Guide with its additional illustrations describes the various ring sizes, necklace lengths and bracelet sizes, helping you to find the best fit for your next jewelry purchase.
Ring Size Guide
A ring should fit comfortably on the finger of the wearer as well as be snug enough to prevent it from accidentally falling off. The best and most accurate way to measure a ring size is by visiting a local jeweler. Jewelers use a set of graduated rings and other specialized tools to determine ring size, but if you rather measure your ring size at home you can follow the ideas below to determine your ideal ring size.
Ring Size Measurement by Ring's Diameter
The diameter of a ring can be determined by measuring the distance across the middle inside. You can use the ring size circles below (based on ring's diameter) for measuring your exact ring size. Use a ring that fits comfortably on the finger for which you want to know the size. Take a printout of the visual ring chart below as per the print instructions below. Place your ring over the nearest size circle. The inner edge of the ring should align with the outer edge of the circle. If your ring appears to fit between two sizes, buy the larger size.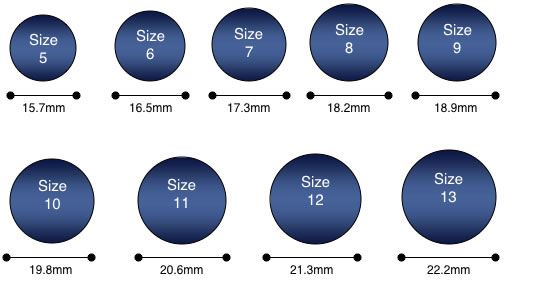 Ring Size Measurement by Ring's Circumference
The circumference of a ring is measured by the length around the inner circle. You can use the finger size strip below for measuring your exact ring size. Please follow the steps to get the accurate ring size. Take a printout of the below as per the given print instructions. Carefully cut this printout from the image outline to get a size strip. Also cut a slit inside the strip at the left end. Wrap this size strip around the finger you wish to measure with the scale facing out and then slide the narrow end of the strip through the slit. Pull the narrow end until the fit is snug. Try to move that fit through the largest part of the finger; this may be the knuckle. The number that lines up at the slit represents the ring size for that finger.

Tips for Measuring Accurate Ring Size
You should avoid measuring cold fingers as this is when fingers are at their smallest size. You should measure your finger in warm temperatures at the end of the day. If your ring size falls in between two ring sizes then it is advisable to go for the larger size.
Print Instructions
To get accurate ring size results, please follow these print instructions. You must make sure that you do not have 'Shrink oversized pages to fit paper size' or 'Expand small pages to paper size' selected in the Print Dialog Box. You must also make sure that you have taken printouts without changing the image size either intentionally or unintentionally. You can verify the sizes of the image printouts by measuring them with a ruler.
Conversion Chart for Ring Sizes
The following chart will be useful in conversion of measured ring size in inches or in millimeters to numbered size applicable in USA and Canada.
US
Diameter
inches
Diameter
mm
Circumference
inches
Circumference
mm
1/2
15/32
11.95
1 31/64
37.60
1
31/64
12.37
1 17/32
38.90
1 1/2
1/2
12.78
1 37/64
40.20
2
33/64
13.21
1 41/64
41.50
2 1/2
17/32
13.61
1 11/16
42.70
3
35/64
14.05
1 47/64
43.40
3 1/2
9/16
14.45
1 25/32
44.90
4
37/64
14.86
1 27/32
46.50
4 1/2
19/32
15.27
1 57/64
47.80
5
5/8
15.70
1 15/16
49.00
5 1/2
41/64
16.10
1 63/64
50.30
6
21/32
16.51
2 3/64
51.50
6 1/2
43/64
16.92
2 3/32
52.80
7
11/16
17.35
2 9/64
54.00
7 1/2
45/64
17.75
2 13/64
55.30
8
23/32
18.19
2 1/4
56.60
8 1/2
47/64
18.53
2 19/64
57.80
9
3/4
18.89
2 11/32
59.10
9 1/2
49/64
19.41
2 13/32
60.60
10
25/32
19.84
2 29/64
62.20
10 1/2
51/64
20.20
2 1/2
63.10
11
13/16
20.68
2 9/16
64.30
11 1/2
53/64
21.08
2 39/64
65.70
12
27/32
21.49
2 21/32
67.90
12 1/2
55/64
21.89
2 45/64
68.50
13
7/8
22.33
2 49/64
70.10
Necklace Length Guide
Necklaces and chains are available in different lengths and styles. You should choose the length and style of the necklace or chain based on neck size, personality and clothing.
Neck Size Measurement
Neck size can be measured easily by using a sewing (soft) measuring tape. Wrap this tape around the base of your neck to determine neck size. If you don't have a soft measuring tape, then you can also use a yardstick, ruler or stiff metal measuring tape. In this case, you need to wrap a ribbon around the base of your neck, mark the spot where it meets, and then lay it against the yardstick or metal measuring tape to determine neck size.
Necklace Length Comparison Chart
For those of you who are like me and have a hard time figuring out necklace lengths from descriptions, here's a necklace length comparison chart that illustrates where necklaces / chains of different lengths will hang on a person with an average neck size.