For those of you who are like me and have a hard time figuring out necklace lengths from descriptions, here's a little chart to help visualize what that 18" necklace is really going to look like.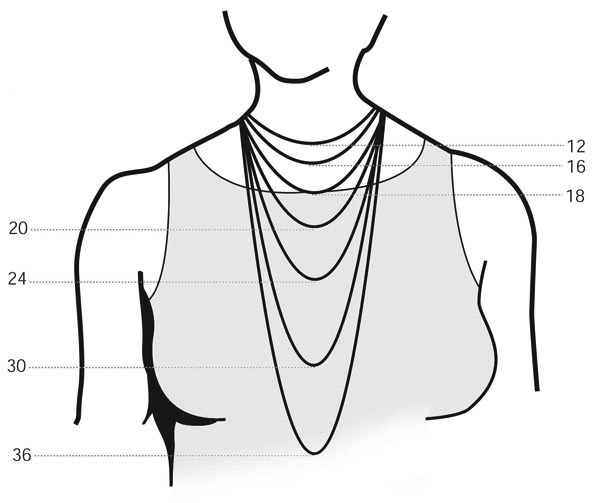 Determine Your US/Canada Ring Size With a Ring Size Chart. Use a ring that fits you to determine your ring size. Place your ring over the nearest size circle. The inner edge of the ring should align with the outer edge of the circle. If your ring appears to fit between two sizes, buy the larger size.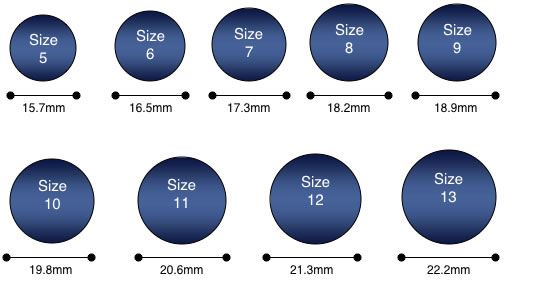 Measure Your US/Canada Ring Size With a Finger Size Strip To create your own ring sizer, print and cut the strip below. Insert the narrow end of the sizer through the "cut here" slot. With numbers on the outside, place the loop around your finger, and pull until the fit is snug but comfortable.



US

Diameter
inches
Diameter
mm
Circumference
inches
Circumference
mm
1/2
15/32

11.95

1 31/64

37.60

1

31/64

12.37

1 17/32

38.90

1 1/2
1/2

12.78

1 37/64

40.20

2

33/64

13.21

1 41/64

41.50

2 1/2
17/32

13.61

1 11/16

42.70

3

35/64

14.05

1 47/64

43.40

3 1/2
9/16

14.45

1 25/32

44.90

4

37/64

14.86

1 27/32

46.50

4 1/2
19/32

15.27

1 57/64

47.80

5

5/8

15.70

1 15/16

49.00

5 1/2
41/64

16.10

1 63/64

50.30

6

21/32

16.51

2 3/64

51.50

6 1/2
43/64

16.92

2 3/32

52.80

7

11/16

17.35

2 9/64

54.00

7 1/2
45/64

17.75

2 13/64

55.30

8

23/32

18.19

2 1/4

56.60

8 1/2
47/64

18.53

2 19/64

57.80

9

3/4

18.89

2 11/32

59.10

9 1/2
49/64

19.41

2 13/32

60.60

10

25/32

19.84

2 29/64

62.20

10 1/2
51/64

20.20

2 1/2

63.10

11

13/16

20.68

2 9/16

64.30

11 1/2
53/64

21.08

2 39/64

65.70

12

27/32

21.49

2 21/32

67.90

12 1/2
55/64

21.89

2 45/64

68.50

13

7/8

22.33

2 49/64

70.10